October has arrived, my friends! Are you as excited as I am? Please say yes! I think October is by far my favorite month (besides my birthday month that is). Once October arrives, I feel like the rest of the year flies by, which means Christmas music, stockings, hot chocolate, reindeer & Christmas trees (ok ok ok, I am getting alittle ahead of myself!)
Now, back to Fall - One of the many reasons I love Fall is because of the fashion. A couple years ago, fashion was non-existent to me & so is my favorite trend of the season, camo! I am kinda weird-ed out that I have fallen in love with camo, because I am not a camo girl - period! Growing up I was the girl who wore dresses with handmade bows in my hair (thanks mom). I can't get these
camo skinnies
out of my head. They are def on my wish list this Fall & by the end of the season, I promise you that I will own a pair of camo pants, promise!
Tweed, stripes & of course leopard (I will never get enough!) are some of my other favorite fall trends.
What are your favorite trends this season?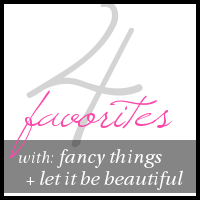 Four Favorites link-up
is held on Wednesdays!
There aren't any rules:
but If you would like to participate in our Four Favorites link-up we would really appreciate it if you followed both
Kristin
+ I and share the button on your Four Favorites post! Be sure to spread the word and have fun with it :)
FUTURE THEMES
•
October 9th | Random Favorites