Happy Wednesday sweet thangs! Today here in VA it is 70 degrees, seriously is that even real -- I mean last Friday it snowed + then today I could wear shorts, weird VA weather! This last week + a half has been super duper long for me & I am honestly drained. I am working 9/10 hour days then coming home to a pile of work that just keeps piling up! I have been trying to get some packing done for my move that is coming up so quickly, along with working with clients to help re-brand their blog/businesses & I trying to find time for myself in the mix. It all be rather hard sometimes. & to top it all off I am still not caught up on my sleep, #fail.
But a good thing is I am still very much in love with Valentine's Day, & sorry that it has not changed any since last week if you aren't a love day fan!! Like I mentioned last week my mom is the culprit for my love for Valentine's Day & ever since I was little my mom always put together a little something for each of us kids. I remember one year here recently she was out of town & did not get the chance to put anything together for us & I was super sad. I thought that maybe I was getting too old & those things stop once you graduate from college, but nope my dear mom apologized & made-up for it at Easter! :]
Anywho, here are some of the cutest love day pretties that I would not mind finding in my little Valentine's goodies from my mommy. *mommy if you are reading this, hint hint!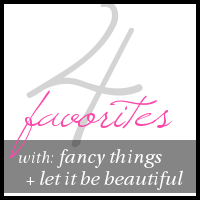 Four Favorites link-up is held on Wednesdays! There aren't any rules: but If you would like to participate in our Four Favorites link-up we would really appreciate it if you followed both Kristin + I and share the button on your Four Favorites post! Have fun + spread the word! x