Hello, sweet friends! We are half-way through the week, YAY! This is a super busy week for me -- I am finishing up my rotation, in the midst of packing up my room (still!), taking an exam on Friday & moving myself up to DC, deeeeep breathe! Even with all this craziness I find happiness in the simplest little things:
One:
This week (
actually alll the time
) Rhi the
blogger
+ wedding planner behind
Hey Gorgeous Events
always has just the right words to say + yesterday her
Pep Talk Tuesday
tugged on my heart strings. She has the sweetest heart & it truly shines through her blog, weddings, & her
instagram
(
which is one of my absolute favorites
). You
MUST
check her out!
Two: Proverbs 3:6, spokes volumes to me this week. I absolutely love when my devotionals are right on point. Such a blessing!
Three:
My
Plum Pretty Sugar robe
is a little piece of heaven that I put on when I need to feel pretty & this week I have needed it. I am so blessed to have won Rhi's HGE launch giveaway, so this beauty could become my new best friend :]
Four:
& lastly, If you have not seen the fabulous
Cartas De Amor Magazine
that Jen Ramos of
Mady By Girl
put together -- YOU MUST
GO NOW
! This little collaboration involves 18 fabulous bloggers who each share a love letter & why it is important to them. I am sharing N's first Valentine's card to me + it really is a
sweet
one -- pssst it's on
page 37
!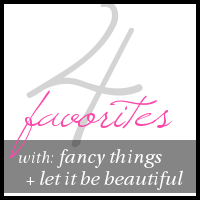 Four Favorites link-up
is held on Wednesdays!
There aren't any rules:
but If you would like to participate in our Four Favorites link-up we would really appreciate it if you followed both
Kristin
+ I and share the button on your Four Favorites post!
Be sure to spread the word and have fun with it :)