+
Happy Wednesday, bloggettes! First all let me just say that this week has been a huge adjustment for me + it is only Wednesday! In a nut shell, my new job is located 35 miles out side of DC & my sleep schedule has completely changed. & to top it off I got a flat tire last night on my way home from a 13 hour day! ahhhhh! So that is why I do not have a fully-well-put-together four favorites post this week. But I am going to share 4 of my favorite things I am loving this week in words :]
ONE: Despite the crazy mileage I am so blessed to be going in the opposite direction of traffic. If I was going with traffic my commute to & from work would be even more chaotic!
TWO: My new rotation is in OB-GYN, which is where my little heart lies. I l o v e my new preceptor + am super excited to go to work each day + learn something new.
THREE: Yesterday .... I got to help deliver my first natural birth baby boy! eeeek! My little heart fluttered with job yesterday when he let me participate. I hope to be able to deliver my very own little bean by the end of my rotation.
FOUR:

Even with this huge change that has recently taken place in my life, I am so happy to finally be with N. We have waited so long for this & sometimes you really don't realize that everything that you go through to accomplish something amazing takes work & I feel that it truly has truly paid off.


Thanks for stopping by today, I will be back next week sharing some more favorites! Love you all, xo.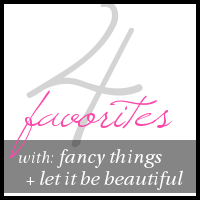 Four Favorites link-up
is held on Wednesdays!
There aren't any rules:
but If you would like to participate in our Four Favorites link-up we would really appreciate it if you followed both
Kristin
+ I and share the button on your Four Favorites post!
Be sure to spread the word and have fun with it :)