Well Hello there Wednesday, glad you came so quickly! This week is flying by but I still feel like I can't get enough done in a day. By the time I get off work at 6/6:30 it is SO dark outside & my mind thinks it is time for sleep. ha riiiiight. I wish! Buttttt, do at you see anything different? I decided to play around with my design a little bit & walah. I will probably continue to change it around some, but with my personality I am always wanting to change it. ha! & with that I also put together my four favorites round-up & these are some of the things I am loving this week. Are any of my favorites your favorites?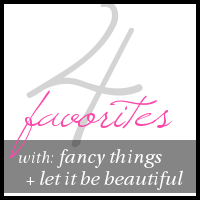 Four Favorites link-up
is held on Wednesdays!
There aren't any rules:
but If you would like to participate in our Four Favorites link-up we would really appreciate it if you followed both
Kristin
+ I and share the button on your Four Favorites post!
Be sure to spread the word and have fun with it :)