Happy Wednesday to all of you! & Happy snow-day to me -- but I have to be honest that as of yet there is only dusting on the grass & my friends they were calling for 6-12 inches. Too bad it was for everywhere BUT DC. ha
go figure!
But I am not complaining of my day off + hoping that I get to build a snow man by the end of the day. OH & best part I get to spend it with N.
Anywho, ever since we moved into the new house I have been dreaming of creating my self a little office space. N + I have talked about it and he said that more than likely it will happen in a few months, eek! But until then I will keep brainstorming all of my ideas & of course sharing them all with you!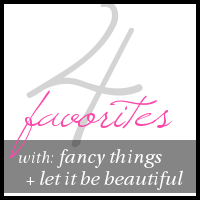 Four Favorites link-up
is held on Wednesdays!
There aren't any rules:
but If you would like to participate in our Four Favorites link-up we would really appreciate it if you followed both
Kristin
+ I and share the button on your Four Favorites post!
Be sure to spread the word and have fun with it :)