Happy Wednesday, sweet friends! First off, you can find me over at the sweet
Michaela's blog
today sharing my
loves + love me nots
-- so be sure to stop by! But sorry for my lack of posting these last few days, I have been super busy with getting things on my to-do lists checked off + spending time with N. & on another note, I finally bit the bullet & signed up for my boards. It is official, I will be taking my 5 hours certification exam July 3rd -- so this girl has got to start cracking down & hitting the books more regularly, because once in a blue moon isn't going to cut it! So keep me in your thoughts + prayers.
These
WORDS
are self-explanatory. So go do something good today!
This
GOLD WIRE TABLE
has been calling my name for weeks. When I first saw it at Target my eyes lit up, but unfortunately nothing in our house is gold + N is not a huge fan of gold either. So it had to stay at target. So sad friends.
These neutral
FLATS
are just darling. Can someone please buy them for me? I will love you forever + a day!
I spotted these pretty floral
JAMMIES
at Target last week + bought them for my mom for Easter. I love the feeling of cotton pjs during the Spring months. & how fun is the print, just love it!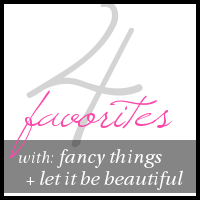 Four Favorites link-up
is held on Wednesdays!
There aren't any rules:
but If you would like to participate in our Four Favorites link-up we would really appreciate it if you followed both
Kristin
+ I and share the button on your Four Favorites post!
Be sure to spread the word and have fun with it :)