It's Wednesday, folks & I couldn't be more excited! Today N + some of our neighborhood friends are heading to a cute little Italian place in the city to mingle & of course enjoy some vino! The weather around these parts has been auhmazing, we kind skipped from the spring weather to straight up 80-90 degrees. I guess at this point I am not complaining because I love the warm weather, but I really hope we get back to the 70s, cause that is my favorite. And since warm weather has been gracing the DC area, I am loving all things bright + fun, hence my four favorites this week.
+
Lindsay Letters
has got some
real
talent & her new
oh, baby
section in her online shop has got me wanting one of my close girl friends to get preggers just so I can
buy this canvas print for them
. I mean I would love to have a little girl, but I am not even engaged yet, so that obviously that is out of the question.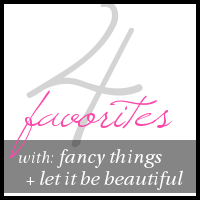 Four Favorites link-up
is held on Wednesdays!
There aren't any rules:
but If you would like to participate in our Four Favorites link-up we would really appreciate it if you followed both
Kristin
+ I and share the button on your Four Favorites post!
Be sure to spread the word and have fun with it :)