My heart is still saddened by the events that took place in Boston on Monday. I can not wrap my mind around why our world is full of so much hatred & the only comfort I have has been from praying non-stop for our world to find peace & this verse has been ringing in my heart over the last 48 hours:
PEACE I LEAVE WITH YOU. MY PEACE I GIVE YOU. I DO NOT GIVE TO YOU AS THE WORLD GIVES. DO NOT LET YOUR HEARTS BE TROUBLED & DO NOT BE AFRAID:
+ JOHN 14:27
MY FOUR FAVORITES:
+ 02. Aqua. Turquoise. Teal -- whichever you prefer, there is no doubt that
these pretties
are the perfect shade of color for me.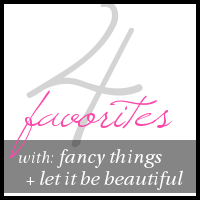 Four Favorites link-up
is held on Wednesdays!
There aren't any rules:
but If you would like to participate in our Four Favorites link-up we would really appreciate it if you followed both
Kristin
+ I and share the button on your Four Favorites post!
Be sure to spread the word and have fun with it :)
SIDE NOTE: Please only link-up posts that are relevant to four favorites, others will be deleted. Thank-you for understanding.