Oh hay hayyyy!
UPDATE: Life has been crazy around these parts with this that & the other...such as sitting in 8 hours of lectures since Monday trying not to stab myself in the eyeballs. oh & planning this graduation party thing I have on Saturday with all my friends & family. oh & designing this gorgeous girls
blog
+
shop
(one of my favorites to date!). oh & frantically applying for jobs because I will officially be living on a credit card very soon + that my friends is not my idea of fun. So therefore, I have been having the biggest anxiety attacks of my life since I have to put my big girl panties on in the very near future (freaks me out a bit kids!).**
& on top of it all I miss my other half. I feel like since I moved to DC being away from him for even an afternoon makes me sad, pathetic I know.. but I get to see him so very very very soon! EEK. (loudest squeal ever!).
Now, even with all this stress going on in my life I managed to put together my four favorites for yall this week. It was rather enjoyable + relaxing to be able to sit at the computer & put all of my pretties together. This week I feel like I needdddd a mini vacay more than evaaa. I mean its a serious NEED now, not even a want any longer. So if I were to travel to a beautiful place where I could lay on a beach with the sun on my face, sand in my toes & a alcoholic beverage in my hand (or 10) I would bring along these pretties (& a whole lot more because I pack for years when I travel, go ahead judge away):
TOTE
// I fell in love with this
Going To Market Tote
, or GTM for short #loveit, as soon as
Blair
posted it on her instagram feed. It is a must for any chick.
BIKINI
// A
polka dot bikini
is a must for this little beach trip I am going on (
dreaming of
) + this
D&G
one fits the bill perfectly. I was sold at polka...dot! :)
DRESS
// This
maxi dress
is simple + chic + affordable & would be perfect to wear during the day or evening out in Cabo, Key West or Punta Cana. Can you tell that I have really been thinking hard about this vacay! ha
FLATS
// & adding these
sparkly flats
would complete the look. le duh!
*I sound super bubbly in my post but please be aware that this has been the longest week of my life, actually life in general over the last several weeks has been long. & I feel like I can never catch a break. But when I first started this post I didn't know how to write about what I am currently feeling, but I wanted to let you know that this little ol' life of mine is far from perfect.**
**side note: I learned this *** trick from the oh so fabulous Natalia. If you don't know this chic, please go say hi, she is adorable + is always making me laugh!
VACAY BEACH LOOK: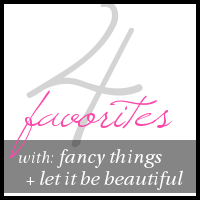 Four Favorites link-up
is held on Wednesdays!
There aren't any rules:
but If you would like to participate in our Four Favorites link-up we would really appreciate it if you followed both
Kristin
+ I and share the button on your Four Favorites post!
Be sure to spread the word and have fun with it :)
SIDE NOTE: Please only link-up posts that are relevant to four favorites, others will be deleted. Thank-you for understanding.