All week long I have been studying away for my boards that are quickly approaching (eek!). & on top of it all, I have managed to lose track of what day it is because I ... tend to stay in my PJs from morning til night (no judging now). NOTE: I do take showers.
Yesterday, I decided to get dressed, head to my my afternoon interview & make a pit stop at J. Crew on my way home since they are having another auhmazing 25% off (30% cardholders) sale. I scored some cute tees (
here
) + (
here
),
FACE nail polish
+
lipstick
, knock knock sticky notes, & the ever so coveted White Floral necklace that for some reason I can not find online. To say the least, J. Crew put a little pep in my step.
On a floral note, today here on LIBB we are talking all things floral (since it is Floral Favorites!).
+ I am dy-ing for a reason to make
floral ice cubes
. Maybe here so I will do it just because + invite some girlfriends over.
+ These
lemon pansy
bauble bar earrings
have been out of stock for what seems like weeks. Hoping they come back in stock soon because they are adorable.
What are your floral loves?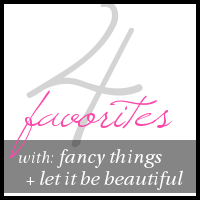 Four Favorites link-up
is held on Wednesdays!
There aren't any rules:
but If you would like to participate in our Four Favorites link-up we would really appreciate it if you followed both
Kristin
+ I and share the button on your Four Favorites post!
Be sure to spread the word and have fun with it :)
ANNOUNCEMENT: THEME FOR June 26th | Weekend Getaway + July 3rd | 4th of July