Hi friends! Just dropping in to say hi! This week has been an extremely long one for me, but I def feel more prepared for my exam next Wednesday. Luckily, N has been here with me, but he is leaving this morning to go back to work (sad face!). I have managed to get my study on during the day & kind of ...relax at night. No beach yet, but hopefully in the next few days I will get a little sun. On another note, I have ZERO cell service in my room & no internet (dying over here!). So, I finally purchased 24 hours of internet last night to get the rest of my guest posts up & to say hi to all you pretties & (of course get my internet fix).
Today, I want to introduce to one of my closest & dearest blogging bffs. She is the sweetest & I am not sure what I would do without her. If you haven't met
Rosa
, you must stop by her blog & of course meet your lovely
Chihuahua Lola
.
Hello everyone, this is Rosa of Rosa Loves DC.
One my close friends in Indiana emailed me recently and she decided to come to DC for a girly weekend getaway. I love playing tourist in DC and it is always better to visit my favorite places in the city with fabulous friends. I am already planning their itinerary and I know we are going to have a lot of fun. So the topic of this week's Four Favorites, Weekend Getaway, was the perfect match for my upcoming weekend with friends. Here's my list:


+ A visit to Rusty, the
red panda
, at the
National Zoo
was immediately scheduled after his daring escape earlier this week. Now that he is safely back at the zoo, we are hoping to go say hello to this brave little fellow. I have the feeling he's a bit of a ladies' man.
+ How amazing is this
Madewell leather tote
? I think it's perfect to carry all of our essentials (camera, sunscreen, wallet, maps) while enjoying a tour of DC.
+ And of course, all the walking will eventually make us hungry and these
macarons
from
Macaron Bee
would make the perfect (and incredibly) snack.
Thanks Ashlyn for inviting me over to guest post on your lovely blog!
XO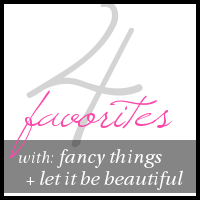 Four Favorites link-up
is held on Wednesdays!
There aren't any rules:
but If you would like to participate in our Four Favorites link-up we would really appreciate it if you followed both
Kristin
+ I and share the button on your Four Favorites post! Be sure to spread the word and have fun with it :)
ANNOUNCEMENT: THEME FOR July 3rd | 4th of July