Hello Wednesday! Where is time going - I can hardly believe that we are already in the middle of July! Today is Four Favorites, so let's get to it!
+ I have a confession to make. I have a girl crush on Julianne Hough. She is absolutely gorgeous & her personality is radiating. & how pretty is she in this photo?
+ These
pineapples
have been floating through the internet & honestly I am in love with pineapple e v e r y t h i n g.
+ Training your mind to see the good in everything is a challenge, but
these words
are a perfect reminder to anyone. I am constantly reminding myself & everyday I am finding the beauty in things I didn't the day before.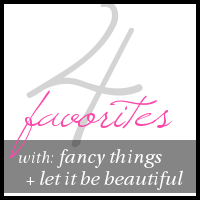 Four Favorites link-up
is held on Wednesdays!
There aren't any rules:
but If you would like to participate in our Four Favorites link-up we would really appreciate it if you followed both
Kristin
+ I and share the button on your Four Favorites post! Be sure to spread the word and have fun with it :)