Hi there sweet friends! Today is the BIG day. At 8 AM I will be sitting down to take the most important exam of my life. I have been a bundle of nerves these last few days & yesterday was the worst of them yet. I hope that all this knowledge that my little ol' brain has stored it in is put to good use tomorrow. Please keep me in your thoughts & prayers. oh & p.s. I will be back starting next Monday! xo
-----------------
Hey <let it be beautiful> ladies, I'm Danielle from
Lou What Wear
and I'm pretty excited to be filling in for Ashlyn today while she's off being studious. I'm even more pumped because I get to talk about one of my favorite days. Seriously, what's not to love about the Fourth of July? It's a big, giant celebration of this great land we get to call home. Parked right in the middle of summer, it's a holiday we all get to share with a day off - hopefully in the sun and on the water - spent alongside friends & family. No pressure of buying presents or any other formalities. Just celebrating and having fun.
Growing up, we always spent the day at a big pool party and it usually ranked up there as one of the most fun days of the year. In the last few years, we've returned to that tradition and this Fourth of July I'll be parked poolside from sun up to sun down... then its off to watch the fireworks.
I love bringing a little patriotism to the pool, so I've put together a couple looks to wear whether you're looking to put a preppy spin on things or just ready to party. My favorite about the items below is that they're not full on flags (well, except the bikini) so you can pick apart the items and pair them with tons of other things in your closet when the fireworks are all over.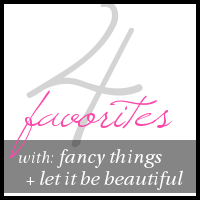 Four Favorites link-up
is held on Wednesdays!
There aren't any rules:
but If you would like to participate in our Four Favorites link-up we would really appreciate it if you followed both
Kristin
+ I and share the button on your Four Favorites post! Be sure to spread the word and have fun with it :)
ANNOUNCEMENT: THEME FOR July 10 | Summer Entertaining