Summer is among us & N + I love nothing more than to entertain or to be entertained. Since we moved into the new house in February, we have wanted nothing more than to have people over on our terrace to chill out & relax. We have yet to make that happen for a number of reasons, but that is a whole other story! N & I have very different tastes when it comes to interior design - He is very modern & even though I do have a modern taste, I also like touches of simple, clean & classic.
This weeks Four Favorites is Summer Entertaining & when I spotted Real Simple's summer-entertaining secrets in July's issue I fell in love with their ideas for a
backyard barbecue
,
cocktail party
& dinner party.
These are some of my wish listed essentials for summer entertaining: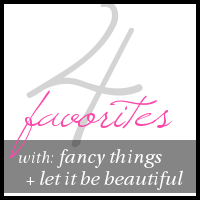 Four Favorites link-up
is held on Wednesdays!
There aren't any rules:
but If you would like to participate in our Four Favorites link-up we would really appreciate it if you followed both
Kristin
+ I and share the button on your Four Favorites post! Be sure to spread the word and have fun with it :)
ANNOUNCEMENT: THEME FOR July 17 | Random Favorites