I have a feeling that gold will a l w a y s be one of my favorite colors, even though it is hard for me to admit that at one point in my life I couldn't stand gold, strike that! It is so classy & pairs great with absolutely everything. Right now I have been on the lookout for anything & everything that could fancy-up my new (soon-to-be) office space, which is slowly in the works (still hoping to get N on the bandwagon). I have found countless pieces, but these are some of my current favorites. What are yours?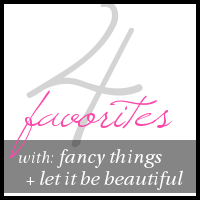 Four Favorites link-up
is held on Wednesdays!
There aren't any rules:
but If you would like to participate in our Four Favorites link-up we would really appreciate it if you followed both
Kristin
+ I and share the button on your Four Favorites post! Be sure to spread the word and have fun with it :)
FUTURE THEMES
•
AUGUST 14th
•
WHITE OUT (oh & it's my birthday! hehe)