It's Wednesday + it's my birthday (!!) & I have the day off (!!!!).
I plan on sleeping in, relaxing & going on a dinner date with N. It is hard to believe that I will be 26 & there have been a lot of life lessons over the years. Goal of 26: learn to cherish the blessings in my life with a little less complaining.
Oh & before I forget: it's four favorites! Hope you all gathered together your favorite whites to link up today. I am looking forward to seeing all your inspiration.
FOUR FAVORITES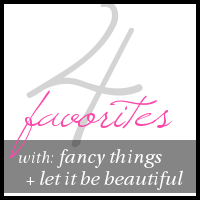 Four Favorites link-up
is held on Wednesdays!
There aren't any rules:
but If you would like to participate in our Four Favorites link-up we would really appreciate it if you followed both
Kristin
+ I and share the button on your Four Favorites post! Be sure to spread the word and have fun with it :)
FUTURE THEMES
•
AUGUST 21st
•
FALL INSPIRATION | AUGUST 28th
•
LABOR DAY