I can hardly believe that it is almost October. & containing my excitement that Fall weather is finally here in DC is non-negotiable. Crisp mornings + chilly afternoons have this girl smiling from ear to ear - along with PSLs, pumpkins on the front porch. yellow mums, red lips & plaid e v e r y t h i n g. When I was a little girl, I can remember the yearly trips our family would take each fall. We would a weekend in West Virginia - going to pumpkin patches & collecting leaves. I remember all the gorgeous views - the array of colors that masked the tops of the trees & the pretty sunsets. We even use to go apple picking with my parents Sunday school class - just thinking about the delicious taste of fresh apples + homemade warm apple pie with vanilla bean ice cream makes my mouth water (!!). These things make me miss being a little girl. When I start a family, I hope to carry on the yearly traditions.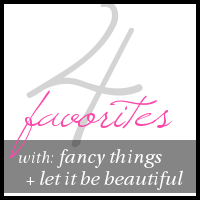 Four Favorites link-up
is held on Wednesdays!
There aren't any rules:
but If you would like to participate in our Four Favorites link-up we would really appreciate it if you followed both
Kristin
+ I and share the button on your Four Favorites post! Be sure to spread the word and have fun with it :)
FUTURE THEMES
•
October 2nd | Fall Trends
•
October 9th | Random Favorites