Hello again! Long time no talk. I have to tell you a secret ... I've missed you :) Hard to believe that it has been over a week since I have put together a blog post or even thought about blogging (kinda nice). N + I had a very interesting vacay, to say the least (more deets on that soon & pictures of course!). The weather was absolutely perfect (minus the first day of monsooning weather) & the beach was gorgeous. N + I have actually been sick since we got back this past weekend - our tummys are not doing so hot (sad face). We are both on antibiotics + eating bland food, hopefully that this little bug passes ASAP.
On another note, I am heading to South Carolina tomorrow evening for my cousins wedding this weekend. I will actually be taking photos of her in her wedding dress before + after the wedding. So I am really excited about that. & I am really looking forward to see all of my family. It has been almost two years since I have seen my grand parents & honestly, that is WAY too long.
---
Now let's get to it! Black + White will ALWAYS be a favorite color combination of mine mainly because of how classic it is, but also because you can pair absolutely a n y t h i n g with it. A pop of color, a bold lip, a fun print, or a little leopard can never hurt. Lately, I have been in stripe mode, actually I am never out of stripe mode. How cute is that rugby bin? Perfect for me new office (still a major work in progress). & that H&M cotton pillow top is darling, too bad it is sold out (just my luck. eh!) & these striped pencils I need, STAT. If you know where I can find some PLEASE shoot me an email. I have googled anything & everything with zero luck. What's your take on black + white?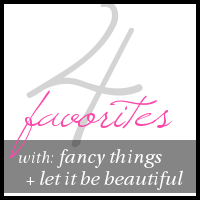 Four Favorites link-up
is held on Wednesdays!
There aren't any rules:
but If you would like to participate in our Four Favorites link-up we would really appreciate it if you followed both
Kristin
+ I and share the button on your Four Favorites post! Be sure to spread the word and have fun with it :)
FUTURE THEMES
•
September 25th | Fall Favorites