Pardon my absence today from Four Favorites today. My little ol' computer has taking a turn for the worst & contracted a virus. I am hoping to have it cleaned + back to working condition by the end of the day, but we all know how that could go. I will still be checking out everyone's posts!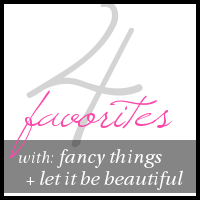 Four Favorites link-up
is held on Wednesdays!
There aren't any rules:
but If you would like to participate in our Four Favorites link-up we would really appreciate it if you followed both
Kristin
+ I and share the button on your Four Favorites post! Be sure to spread the word and have fun with it :)
FUTURE THEMES
•
October 16th | Halloween
•
October 23rd | Random Favorites (& a fun giveaway)